Adventurous Souls • Families • Couples
family photos in wild places
we were all meant to be wild + free
You're looking for the best place to take family photos in Colorado? Well, you came to the right place. I happen to be a peak bagging, rock climbing, mountain biking, fly fishing, dog loving, adventure-junky type of gal. I'd love to show you around and take you on a true adventure – big or small! From nearby open spaces to backcountry excursions, here is a short list of the best places for your Colorado family photoshoot.
My husband and I moved to Colorado Springs in February 2013 and it was one of the best decisions we ever made. The Pikes Peak region has become home to us. We gave birth to our two sons here, have developed lifelong friendships with our community at CityRock, and we are always finding new places to explore outdoors. The city is home to so many beautiful parks and open spaces like Garden of the Gods, Ute Valley Park, and Cheyenne Canyon. There are endless mountain bike trails and don't forget about Pike's Peak! Plus, Colorado Springs is a great basecamp to get to many of Colorado's outdoor activities.
Maybe the prettiest place on earth
Crested Butte just might be one of the most beautiful places on earth. Being an outdoorsy family that we are, we were always searching for a place that we could escape the crowds and into the peace of the mountains. Sure enough, we were lucky to stumble upon a very tiny cabin right near Taylor Canyon. My family and I spend the summer months in Almont, Colorado enjoying the hundreds of miles of mountain biking trails, world class fly fishing, moto riding at Hartman Rocks, and endless miles of 360 degree adventure. I book clients all year round in Crested Butte, so please reach out! 
Don't forget the Wildflower Festival every summer, as Crested Butte is the Wildflower Capital of Colorado. Gunnison is right down the road and what a special town it is in itself. If you're a climber, don't pass by Harmel's or Black Canyon of the Gunnison without getting some pitches in!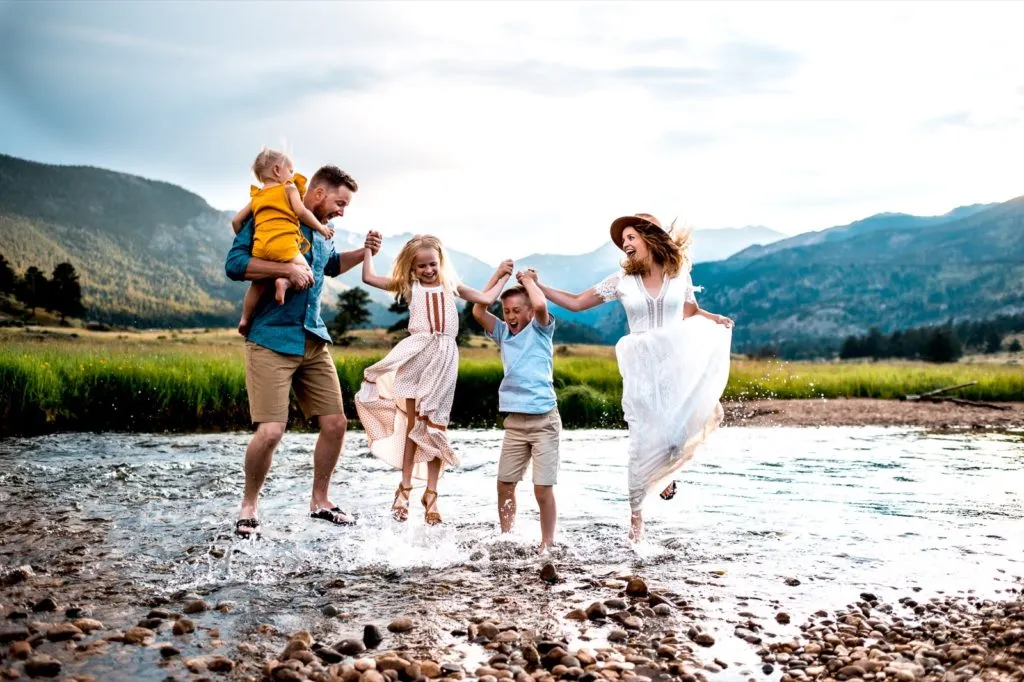 Rocky mountain national park
this national park will have my heart forever
Oh, the park. Rocky Mountain National Park will forever be one of the most important and awe inspiring places in the country to me. As a rock climber, I have sat in pure awe at the top of many of those peaks in the park. In fact, I even climbed the Diamond (Long's Peak) when I was 3 months pregnant with my first son! Any excuse to go to Rocky Mountain is a good reason in my book – so let's craft an adventure for you in one of the most beautiful places in the state!
Check out all of the beauty breckenridge and frisco have to offer
From its legendary ski resort to its historic main street, Breckenridge is the place to be year round! The scenery is absolutely gorgeous, and if you're up for a hike there is the infamous Decalibron Loop where you can bag four 14ers in one swoop! I love exploring these mountains and have found some adventures big and small to share with you. From Breckenridge to Frisco to Leadville, there are legendary mountain escapes that will be quite a backdrop for your Colorado family photos.
you might just stumble upon a moose
Vail is internationally famous for a very good reason. The beauty in both the winter and summer months will absolutely blow you away. One of the hidden gems is Piney River Ranch. Located about 12 miles north of Vail Village and surrounded by thousands of acres of backcountry wilderness within the White River National Forest, you'll find this incredible spot to see breathtaking mountains, vibrant wildflowers during the summer, and a peaceful lake. While the ranch itself is quite a destination, you don't have to be a guest to enjoy the surroundings – it just adds in a bit of a hike, but I'm always game for that!
sangre de cristos + san juan mountains
ask me for the most beautiful alpine lakes or peaks in these ranges
Having been a resident in Colorado for ten years I have done my fair share of exploring. I've climbed mountains all over the state, fished high alpine lakes for trout, ridden my dirt bike for miles without seeing a soul, hiked 14ers to see the sun rise, backpacked miles of trails, ridden my mountain bike down plenty of rocks, and have seen pure, unfiltered beauty in all of its glory. I want to share these spots that I hold closest to my heart with you. I want to take you into the mountains and I want to let you feel the wind on your skin, smell the fresh air, and breath in the most incredible scenery that exists right in our backyard. If standing on a mountain top is in your dreams – let's do this!
ok, so maybe not in colorado but this desert spot is pure magic
Utah is filled with some of the most prolific views in the country. Utah is home to five national Parks – Arches National Park, Canyonlands National Park, Capitol Reef National Park, Zion National Park, and Bryce Canyon National Park. But that's not all! Utah has 3.5 distinct geographic regions, 46 state parks, 5 national historic sites and trails, and a dozen national monuments and recreation areas. Utah is STACKED. Plus, some of the best views and places to explore are located on BLM land (Bureau of Land Management) which is public land not a part of national or state parks. You can find cliffs, slot canyons, desert towers, and views for miles with none of the crowds you'll find in the parks. There is so much beauty in this high desert that it is guaranteed that we can find a perfect spot for an unforgettable photoshoot!
Hi there, thanks for stopping by! Fill out the form below to tell me a little more about you. I will get back to you as soon as I can to schedule a time to get to know one another better and to schedule your session. I am looking forward to it!